Historical Reenactments
Throughout the year, the walks around the town and guided tours provided by the tourist office let you discover all the charm of Montañana, but the festivals of San Jorge and the Pilar always bring life to the "Montañana – Living History" event, with several associations and organisations linked to heritage and historical recreations taking part. This ambitious project, based on the premises of the most rigorous historical recreation, spreads knowledge of Montañana's heritage and history through various events and educational activities.
The El Viejo Reino cultural association takes part in the project, which aims to make use of all the opportunities offered by the town to experience history, understand it and feel it just as it happened.
Montañana – Living History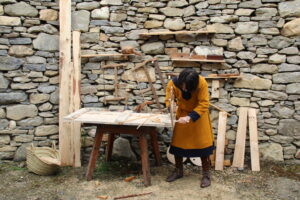 Montañana – Living History was presented at Fitur, the international tourism fair in Madrid, with the town as the setting for various historical recreations, and people faithfully reproducing the daily life of the place at different times in the Middle Ages..
It is not the usual type of fair, or a show with actors and costumes. The recreators use materials, techniques, tools and objects to relive history as closely as possible.
Thus, you can see how craftsmen worked as blacksmiths, carpenters or spinners; attend scenes such a collecting the toll for crossing the bridge, and training the armed guards, or finding out how to make and bake bread.
Important dates like San Jorge and the Pilar give you the chance to participate in the experience.
Castrum Montagnana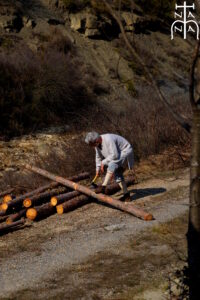 Another project consists in building a new village from the 11th century, the time when Montañana started, in the Faro de Montañana area, using only the construction techniques and real materials from the age.
Not only can visitors see the features and buildings of a village as it would have been in the year 1000, huts, chapel, bread oven, forge, etc., but they can also have the unique experience of living this moment in history.
"Montañana – Living History" gallery
Vídeos
Presentation FITUR january de 2019
Creativity
Presentation FITUR 2018.
Development of banks by the association El Viejo Reino. Real, credible, practical recreation that can be seen and played every day in the medieval village of Montañana
Didactic recreation of the process of preparing a table based on medieval iconographic sources. A full-fledged tutorial.